Discover the best fishing holidays the UK has to offer. Whether you're looking to do sea fishing, game fishing or coarse fishing – we've got a beautiful pub nearby for you to stay in. You'll start the day with a hearty home-cooked breakfast and then enjoy a packed lunch freshly prepared by the pub. After a great day out fishing, you can unwind with a few drinks and tuck into some traditional pub food and head to your room upstairs.
Sutherland, Scotland
Located in the Scottish Highlands, Sutherland is the quintessential trout and salmon fishing destination. Thanks to its collaboration with local landowners, you'll enjoy access to over a hundred lochs in the area, with some delicious fish waiting to be caught. Holidaymakers travel from all over the world to fish in the beautiful Sutherland locks – famous for its world-class brown trout.
You'll catch:
Top Tip: Check out the Assynt Angling Club – you'll find a great source of information for fishing in Assynt!
Nearest pub: The Inn At Y Not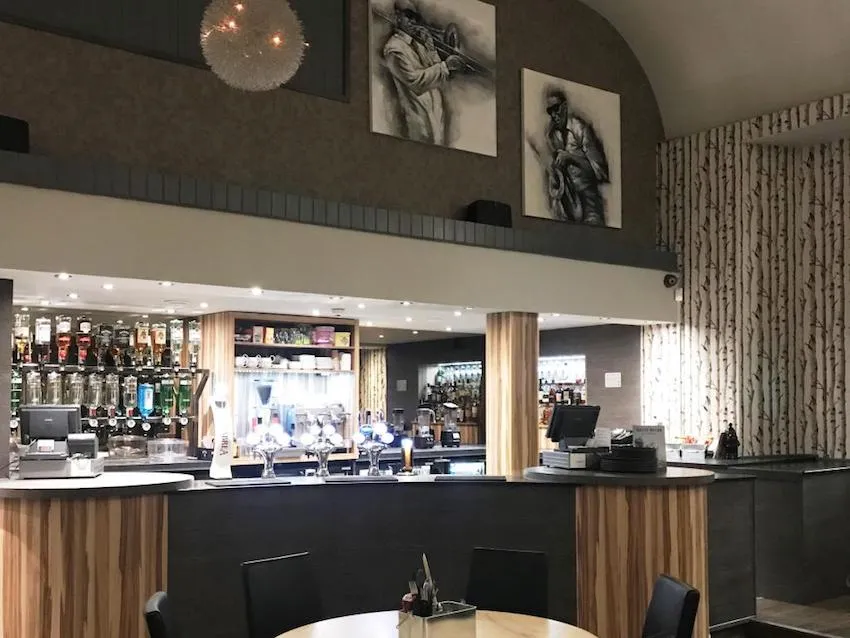 If you're planning a fishing trip to Sutherland, you'll have to check out The Inn at Y-Not – a friendly bar and grill with 6 comfortable rooms. Enjoy a delicious meal made from locally sourced ingredients, and make the most of the on-site facilities, including complimentary toiletries, coffee machines and monsoon showers for a refreshing start to the day. Plus, you're only a 15 minute drive from Sutherland!
Whitby, England
Visit the beautiful harbour town of Whitby – one of the oldest fishing ports in the country. It's famed for some iconic fishing stories and is known as the gateway to some of the best sea fishing in the UK. You can enjoy both boat and pier fishing throughout the seasons – and with peeler crabs as bait, there's a chance of catching a 30-pounder
You'll catch:
Bass
Crab
Mackerel
Coalfish
Pollock
Flounder
Cod
Fun fact: Whitby holds the record for the heaviest cod caught on rod and line in British waters – weighing in at an incredible 58 lb 7 ounces!
Nearest pub: White Horse Griffin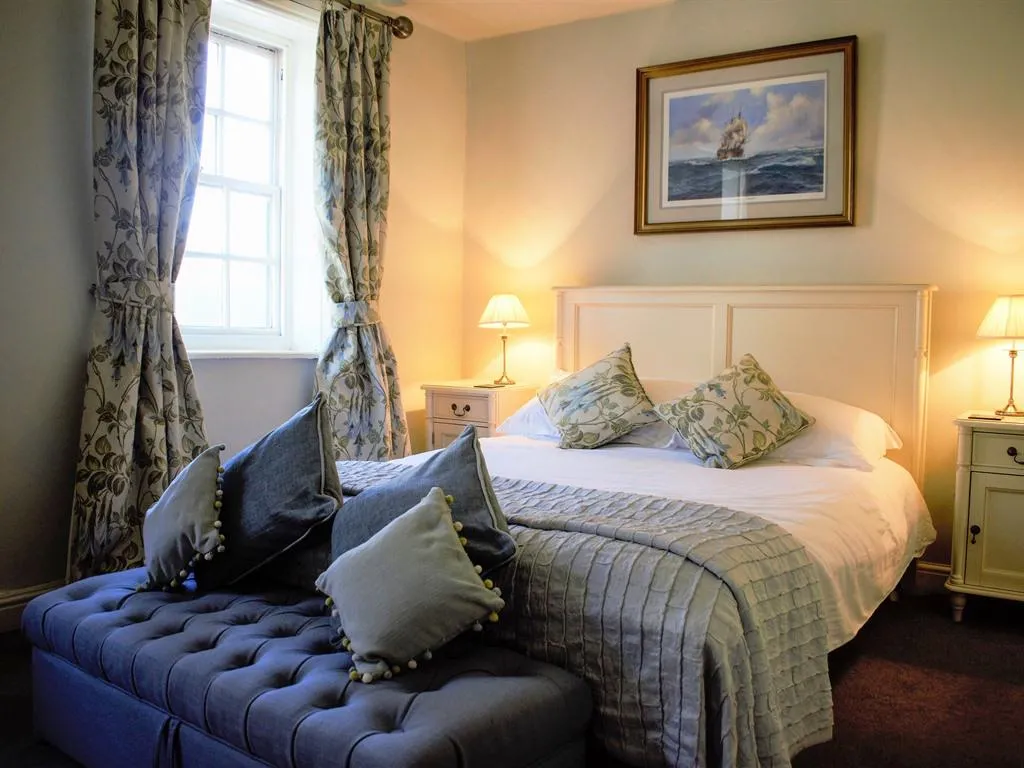 The White Horse Griffin is one of the oldest and most iconic buildings on the east side of Whitby on a beautiful cobbled street. Enjoy the fantastic food on offer, relax with a glass of wine from the well-stocked cellar and bring your pooch so you feel at home. You'll get to stay in one of the 10 characterful en-suite bedrooms, each named after famous Whitby ships and their skippers. The White Horse is the perfect base for embarking on your Whitby fishing holiday!
Northumberland, England
With beautiful rivers, lakes and coastlines to explore, Northumberland boasts breathtaking game, river and coarse fishing spots. You'll be spoilt for choice – just find your perfect spot and kick back in anticipation.
You'll catch:
Salmon
Sea trout
Wild brown trout
Rainbow trout
Fun fact: In the past, salmon of over 40lb have been caught in Northumberland!
Nearest pub: The Lindisfarne Inn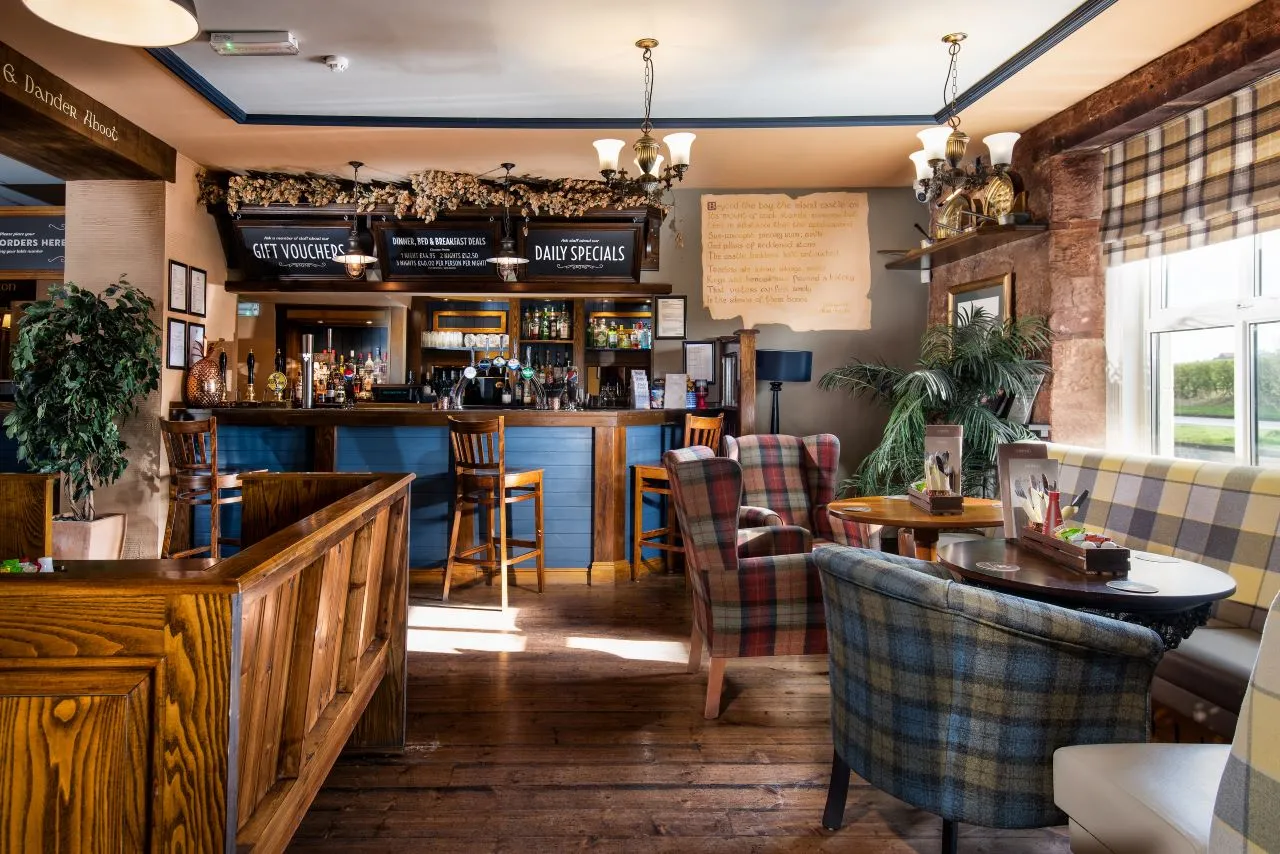 Located on the link road between the A1 and Lindisfarne, right next to the Scottish borders, The Lindisfarne Inn is the perfect location for a Northumberland fishing holiday. Get a good night's rest in one of the 23 comfortable bedrooms (including accessible options and family-size rooms) and enjoy classic pub grub  in the bar area. Or if the sun's shining, dine outdoors alfresco-style in the beer garden!
Useful resources
If you're new to fishing or just want to brush up on the rules, the UK Government website has plenty of useful information on complying with fishing legislation.
Ready to book?
It's time to book your dream fishing holiday. If you're still undecided, we've got more pubs below that are near some fabulous fishing hotspots. Or if you know where you want to fish but need more accommodation ideas, go to our pub accommodation search and just enter your desired location.