England's Best Golf Breaks
Discover our handpicked golfing routes, each filled with its own charm, undulating greens and challenging terrain. Each route has cosy pub accommodation nearby that's all ready to welcome you to your relaxing holiday. After an exciting day of golf, return to your friendly hosts to enjoy delicious home-cooked food and unwind with some fine ales. With log fires and family-friendly options, you'll embark on a trip of a lifetime to create some magical memories with your loved ones.
Here are some of our top picks:
St Andrews Links, Fife, Scotland
Over 600 years old, St Andrews Links Course is known as 'the home of golf'.  There's an array of fantastic facilities, including 7 public courses, a golf academy, 3 clubhouses, and 4 local shops – the perfect pit stop to refuel, recharge and recover in between games. Set off on a guided walk of the Old Course, or play a round with the renowned Royal and Ancient Club House as your backdrop. St Andrews Links provides a truly magical experience for any golfer.
Nearest pub: The Golf Hotel in Fife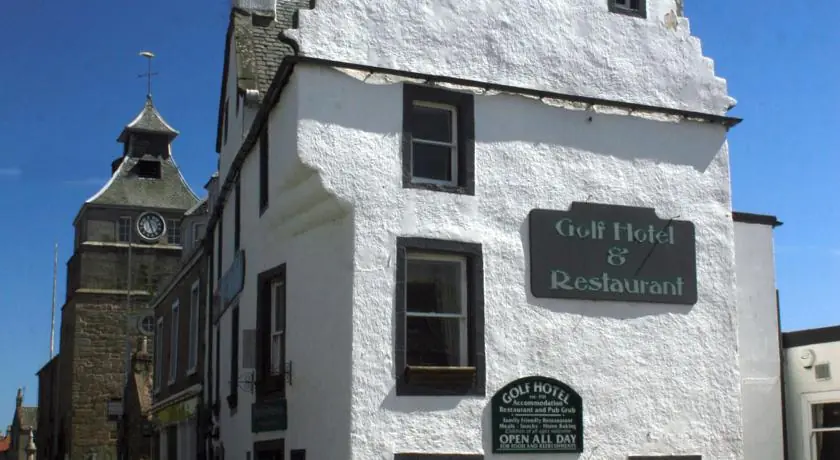 Plan your stay at The Golf Hotel – a listed 16th Century Coaching Inn in the picturesque village of Crail. There's newly refurbished en-suite bedrooms, a lounge bar & dining room and a stunning garden restaurant. With a hearty breakfast included, you'll wake up feeling refreshed and energised to begin your golfing adventure. Stay at one of the finest pubs Crail has to offer.
St Enodoc Golf Club, Cornwall, England
Nestled on the North Cornwall Coast (near Padstow), St Enodoc has some of the greatest sea views of any golf course in the world. Explore beautiful greens, high sand dunes and firm fairways for a spectacular golfing break.
Nearest pub: The Molesworth Arms Hotel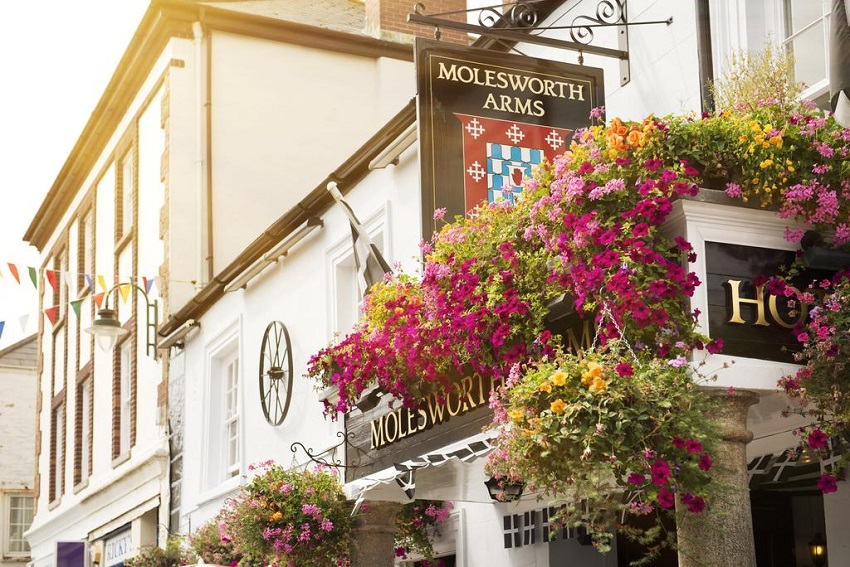 Embark on your golf break and stay at The Molesworth Arms  – a charming inn situated Wadebridge, on the North Cornwall Coast. Bring all your family and friends with 18 boutique-style bedrooms to choose from, all complete with traditional wooden beams and high ceilings. And with dog-friendly rooms, you don't have to worry about leaving your beloved canine behind!
Sunningdale Old, Berkshire, England
Known as one of the greatest golf courses in the world, The Old Course is regularly found in the top 30 of the world's rankings. It's one of the UK's most beautiful inland courses lined with pine, birch, and oak trees to admire – a truly magnificent place to play golf. You'll be charmed by the care and attention needed to get round the courses, with the magical feeling of driving your shot into the undulating greens.
Nearest pub: The Wheatsheaf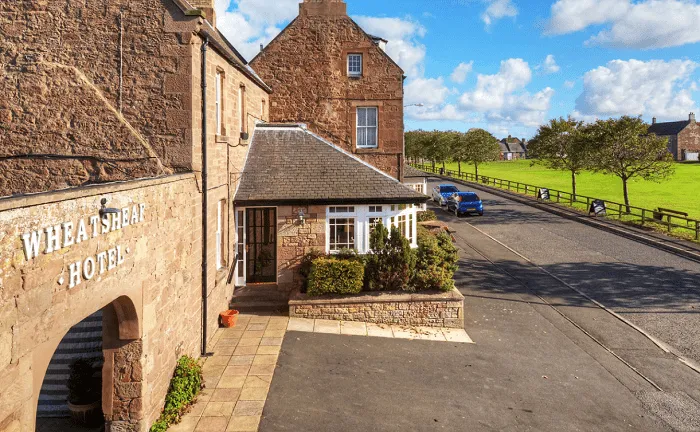 Stay at The Wheatsheaf, a beautiful pub overlooking the green in the peaceful Berwickshire village of Swinton. There are 3 different dining areas to choose from, an inviting lounge bar, 10 tastefully decorated bedrooms and a 2-bedroom cottage. Unwind after a long day next to the log fires, the perfect accommodation for your golf holiday. Your whole family (and your dogs) are more than welcome. There's no better feeling than playing golf with your family – and passing on your skills to your mini budding golfers!
Royal Portrush Golf Club, County Antrim, Ireland
Founded in 1888, the legendary Royal Portrush Golf Club was voted number 8 in the World by Golf Digest (2019). There's 2 championship courses to choose from – The Dunluce and The Valley. You'll need high accuracy shots to master these challenging courses. There's also a driving range with target greens to practise, so when it comes to playing your game, you can shoot the exact shot you've planned and impress! A shuttle service will be on-hand, ready to transport you to and from your clubhouse – but don't forget to take in the breathtaking views along the way!
Nearest pub: The Bushmills Inn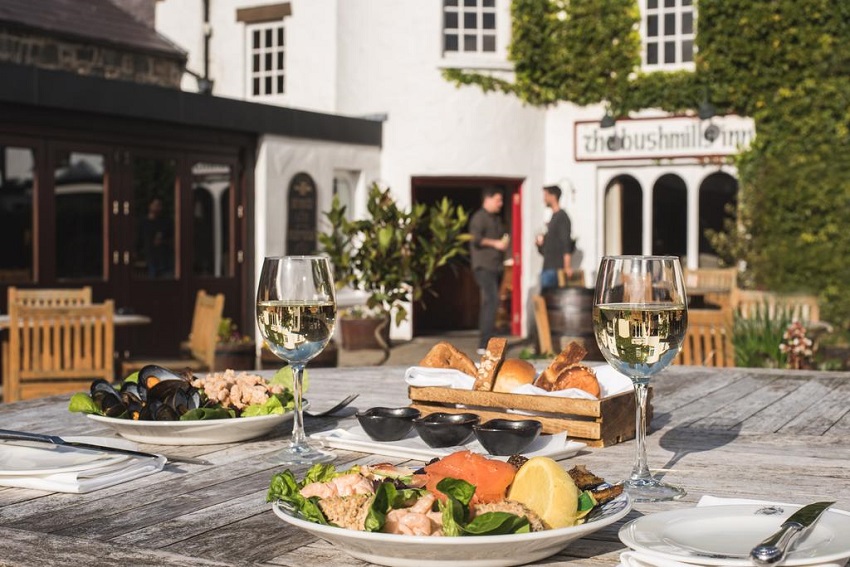 If you crave an unconventional yet exceptional service, plan your stay at The Bushmills Inn. Step back to a time steeped in charm and character – from inglenook turf fires to hayloft snugs, there's something exciting to find behind every door. Space and luxury are aplenty, you'll enjoy the little touches that make you feel truly welcome. And after a refreshing night's sleep, enjoy a full Irish breakfast to set you up to rip your first shot of the day!
Ready to book?
Now you've explored our top picks, it's time to book. Just use our easy-to-use platform to find your perfect pub accommodation – then, it's time to start packing and let the excitement kick in!
If you want inspiration for more holiday ideas, explore our cycling breaks or walking holidays – all complete with our handpicked pub accommodation nearby. Embark on a golf trip of a lifetime.