Four of a Kind: Pubs With Gardens Designed by Chelsea Flower Show Winners
Attractions | Featured | Pub Accommodation | Uk Pubs | Posted 2022.05.26
Our Four of a Kind series takes a look at a quartet of pubs with one common theme – this week, it's pubs with gardens designed by Chelsea Flower Show Winners. Below we showcase some gorgeous pubs that are bookable through the Stay in a Pub website, whose gardens have had a green-fingered input from some superb designers. So, sit back and take a look at some of the horticultural masterpieces that could be the setting for your next getaway!
The Bell Inn, Ticehurst – East Sussex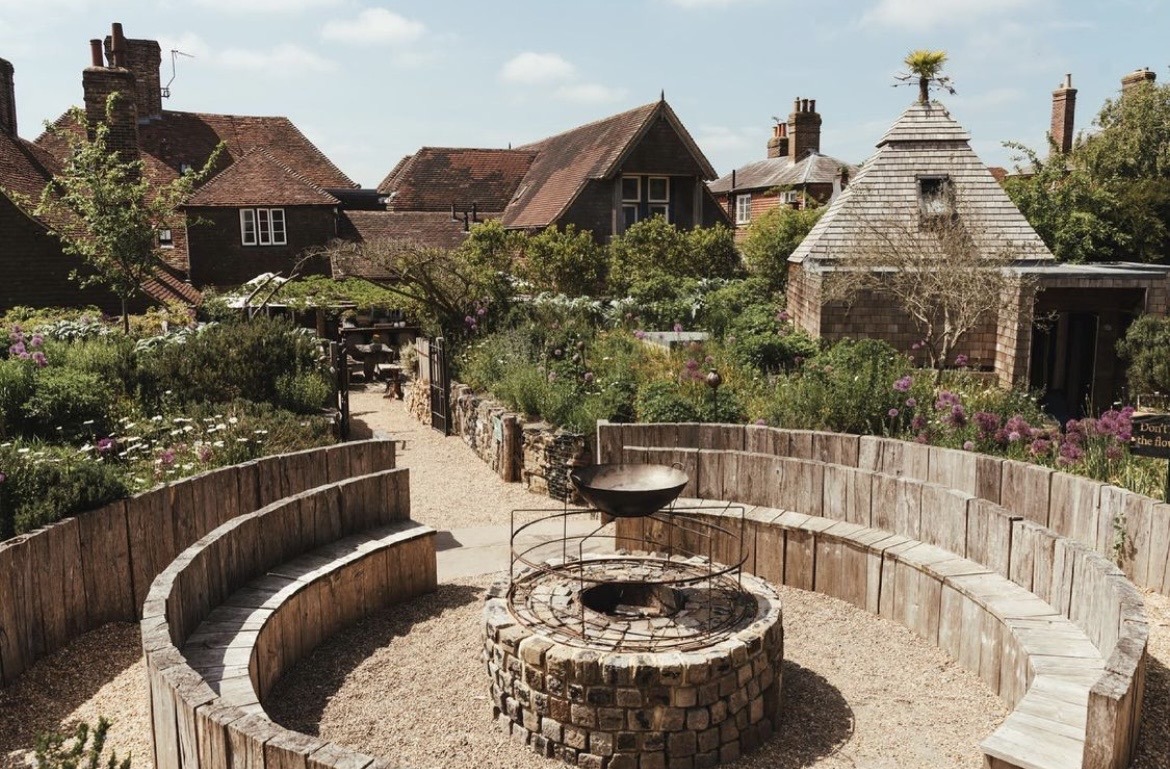 The Bell is a multi award-winning, dog friendly pub with a story that stretches back to around 1560. This wonderful, quirky pub is a truly unique place to stay, with seven bedrooms above the pub, each with their own silver birch tree, and four rustic, romantic lodges. The Bell is situated on the Kent and East Sussex border, in the charming village of Ticehurst.
It's a truly outstanding pub with a truly outstanding garden to match. Designed by Chelsea Flower Show Winner Jo Thompson, she explains her creation in her own words:
"With colourful perennial planting design and a convivial fire pit at its heart, the garden at The Bell Inn in Ticehurst offers a sociable ambience in a magical setting. Four guest lodges, slightly sunken so as not to dominate the skyline, have roofs capped with tufts of grass and the odd banana plant. To introduce a sense of enclosure on what was essentially an exposed site, a palisade of weathered timber sleepers and seating was created to surround a central fire pit.

The surrounding low-maintenance borders are woven through with ribbons of ornamental grasses, while Spring bulbs and late-Summer dahlias introduce seasonal colour to the permanent planting. This really is a garden designed with everyone in mind: the lunchtime visitor might find themselves in a music festival or a Frost Fair." – Jo Thompson
See inside this pub here: The Bell in Ticehurst
The Red Lion, Hinxton – Cambridgeshire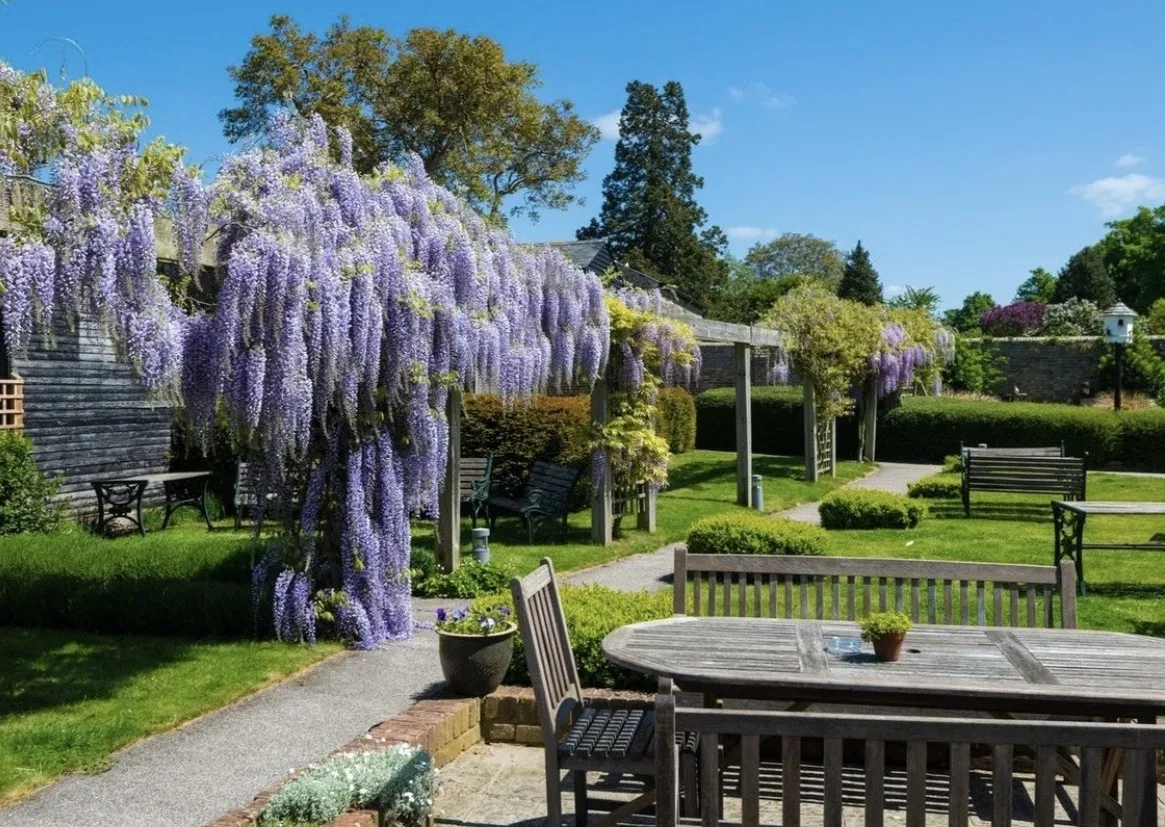 This privately owned, picture-postcard pretty free house has been the beating heart of Hinxton since the 16th Century. The inn's stand out feature is surely its garden, designed with the input of a Chelsea Flower Show winner Ian Shooter. Their Cambridgeshire walled garden sits serenely with a dovecote, lawns, arbour rail and terraces and features a choice of teak tables & chairs, or more informal pub picnic tables, ensuring there is a corner for everyone soundtracked by cooing doves.
There are eight wonderful double rooms to choose from at The Red Lion, each named after a local beer/cyder and its producer and location-wise. The Red Lion is close to Duxford Imperial War Museum and Audley End House, as well as the action at Newmarket Racecourse.
See inside this pub here: The Red Lion, Hinxton
The Black Bull Inn, Balsham – Cambridgeshire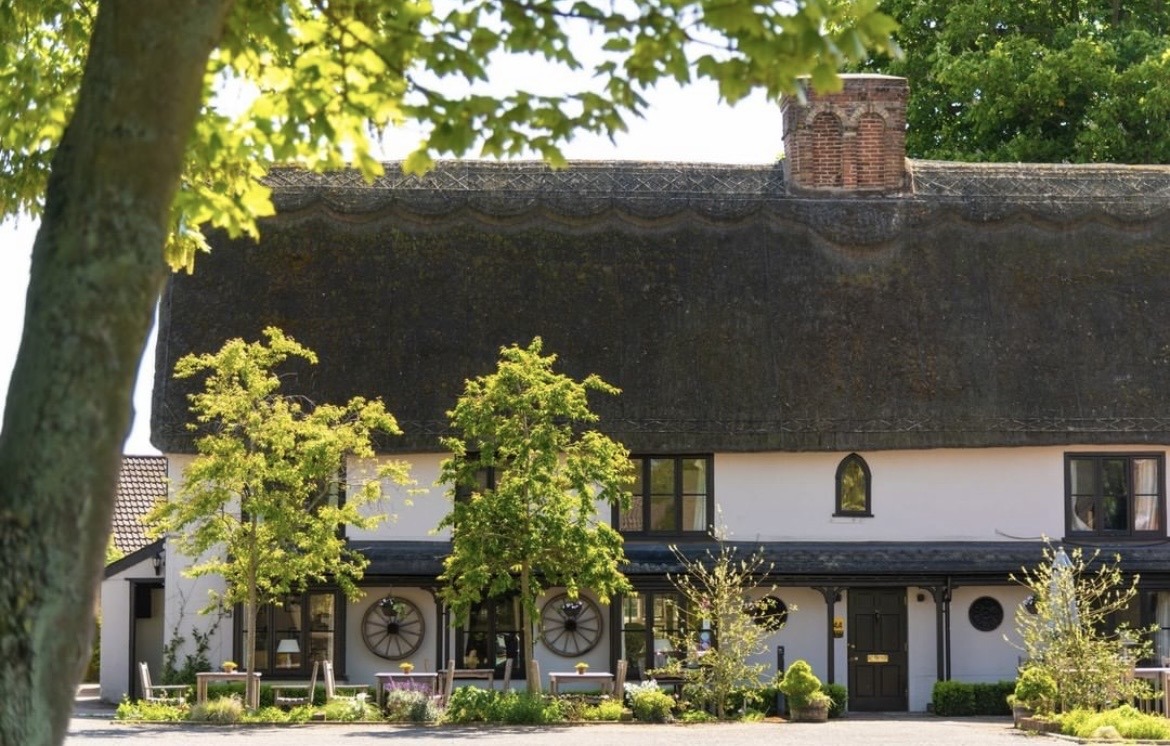 The Red Lion's sister pub in Balsham, The Black Bull Inn has also had input from Ian Shooter. Transforming the outside area, the pub has a tree-lined sandstone dining patio out front under parasols and the eaves of the thatched facade, as well  as a cosy south-facing beer garden at the back.
Five luxurious bedrooms provide guests with superior comfort before exploring Cambridge, Newmarket and the many delightful villages nearby. All rooms are double en-suite on the ground floor and the building has been sensitively designed to retain its original Grade II listed features.
See inside this pub here: The Black Bull, Balsham
New Flying Horse, Ashford – Kent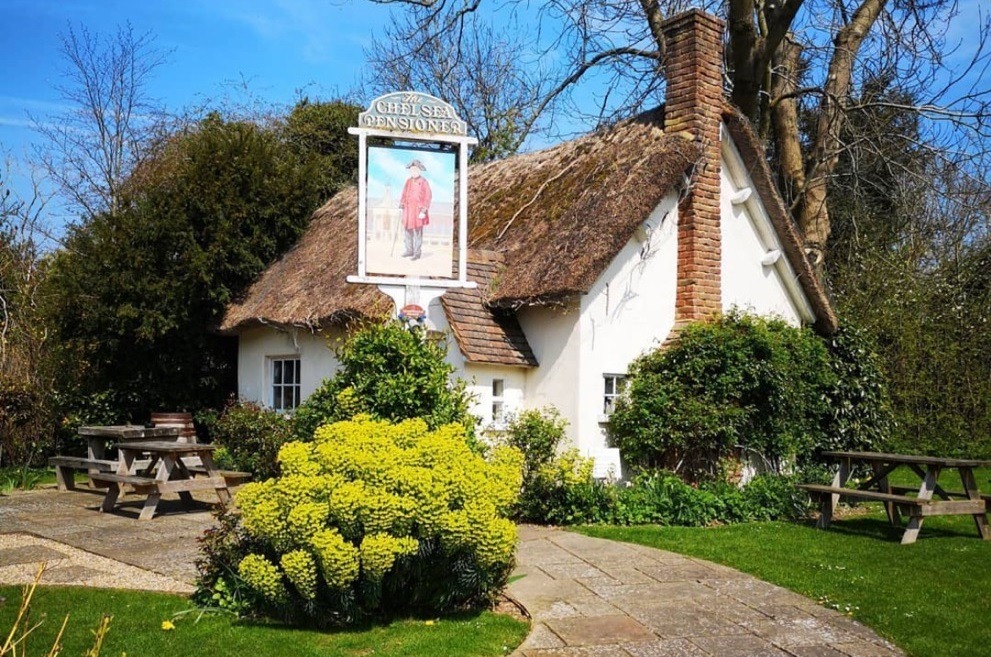 A classic country inn on the edge of the Kent Downs, the New Flying Horse is a special place to dine, drink and stay in Wye, near Ashford. It's home to nine recently refurbished guest rooms that make the perfect base for a stylish stay in the Kent countryside.
Renowned as a local attraction, The New Flying Horse's glorious garden is the best place in Wye to soak up the summer sun with a pint and a pub lunch. It features a unique, award-winning centre-piece – a Chelsea Pensioner themed garden named "Soldiers Dream of Blighty" which was designed by Julian Dowle and won the Chelsea Flower Show gold medal in 2005. With input from the Chelsea Pensioners themselves, the design includes a Dig for Victory vegetable garden, a pond, a field of poppies and a miniature traditional English pub.
See inside this pub here: New Flying Horse
That was our list of pubs with gardens designed by Chelsea Flower Show Winners – so absolutely stunning designs there! To search even more pubs, don't hesitate to take a look at our website. For more pub garden-related content, check out our article that showcases seven of our pubs that were featured in The Telegraph's 50 best pubs with beer gardens!
Written by Connor Davies, Head of Content at Stay in a Pub