Pub Group in Focus: St Austell Brewery
Beach | Countryside | Pub Accommodation | Uk Pubs | Posted 2022.05.20
Our Pub Group in Focus series takes a deeper look into the companies that oversee some of our finest pubs, providing some context and insight into the dedication, love and care they have for the industry. This week, our focus is on St Austell Brewery, the South West-based brewery and pub estate.
History
Founded in 1851, what has come to be known as St Austell Brewery originally began life as Walter Hicks Wine & Spirits. It wasn't until 12 years later that Walter began brewing his own beer, the first of which was created in the Seven Stars Inn. Since then, they've gone on to brew some of the nation's most beloved pints (Tribute, Proper Job, Korev to name a few) and run an impressive pub estate alongside it for guests to quench their thirst with one of their award winning beers.
Today they currently have a portfolio of more than 190 pubs, inns, and hotels across the West Country, with 26 of these pubs with rooms listed on Stay in a Pub's website.
Ethos
St Austell Family Group remains proudly independent and family-owned. Nearly all of Walter Hicks' descendants have a hand in the Brewery as shareholders, with some being more actively involved as directors and employees.
Keeping things local is a major part of St Austell's vision. They have built up a trusted network of local West Country suppliers over the years, the vast majority of which are based in Devon, Cornwall, and Somerset, and many are family-owned. They're extremely proud of the fact that all of the food and drink they serve their customers is purchased from suppliers in their South West heartland, and they're committed to sourcing as much sustainable local produce as they possibly can.
For example, all fresh fish served in their managed Cornish pubs is now guaranteed to be caught in Newlyn, and all their dairy is sourced from Rodda's – a 130-year-old, family-owned creamery in Cornwall. It all feeds into their incredible passion for sustainability, with the group aiming to be carbon net-zero before 2040.
But what does that mean for you, the guest? It means that a stay in a St Austell's pub is one that prides itself on showcasing locality – whether that be delicious cuisine sourced from nearby or simply heartwarming local hospitality. It also means that the décor, interior and general aura of the pub is one that exudes authenticity and gives you a proper South West experience!
Location
As touched upon earlier, St Austell's estate spreads across the West of England, but their 26 pubs listed on Stay in a Pub are primarily based along the coast in Cornwall, Devon and Dorset ( as well as the Isles of Scilly!). Below we showcase a number of St Austell pubs, plucking out a number of their showstoppers, however there are a plethora of gorgeous options to choose from across their estate.
Cornwall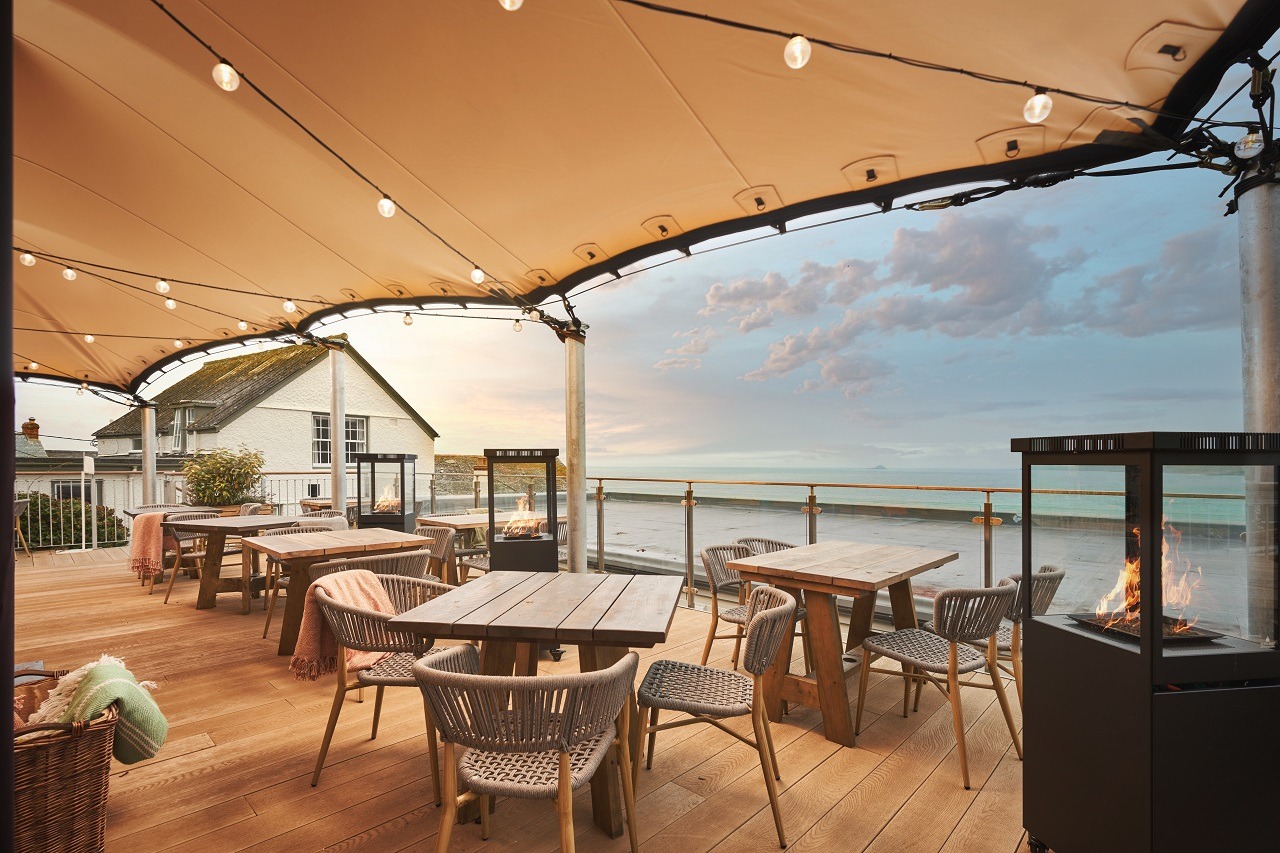 The Old Success Inn is a stunning pub and restaurant with beautiful sea view accommodation situated in Sennen Cove, one of the finest stretches of sandy coastline in Cornwall.  A beautiful 17th century fisherman's inn combining the contemporary with the characterful, providing somewhere to eat, drink and stay with magnificent views, the pub is soaked in tradition and features nautical décor touches and 23 bedrooms. The pub overlooks the striking Sennen Cove, perfect for dining inside or to chill out with a glass of something cold on the decking and gaze at the stunning view.
See inside the pub: The Old Success Inn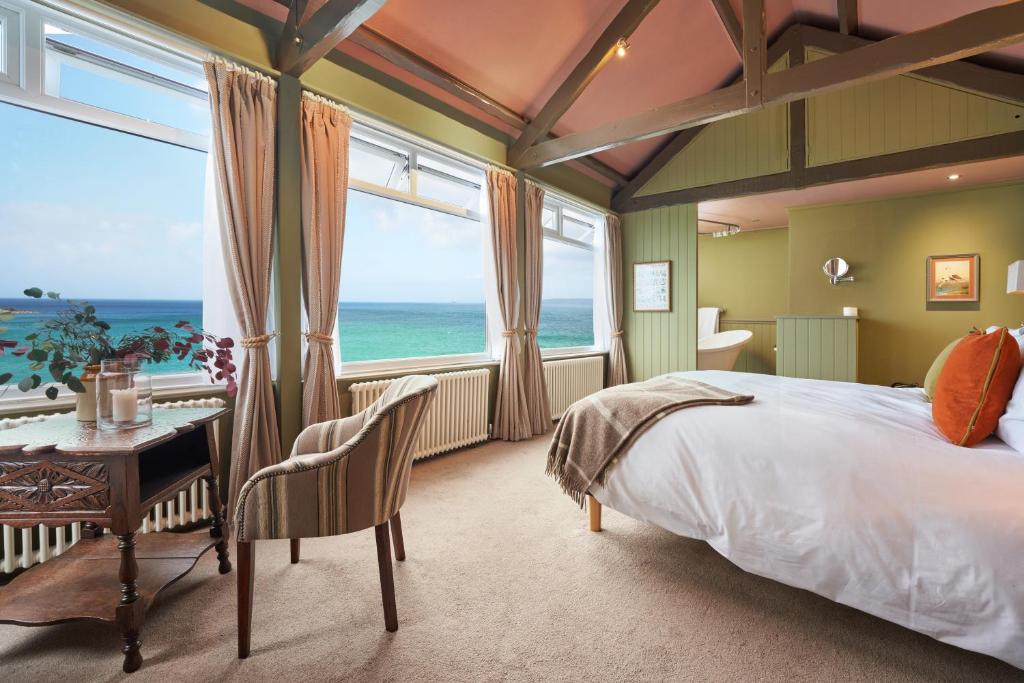 The Pedn Olva is surrounded by beautiful beaches and breathtaking views of St Ives Harbour and Bay. Sitting on granite rocks, 30 feet above sea level, this picture perfect, dog and family friendly pub have 30 stylish bedrooms, together with their own swimming pool. St Ives is a working harbour, surrounded by sandy beaches, fabulous places to eat and a number of art galleries.
See inside the pub: The Pedn Olva
Devon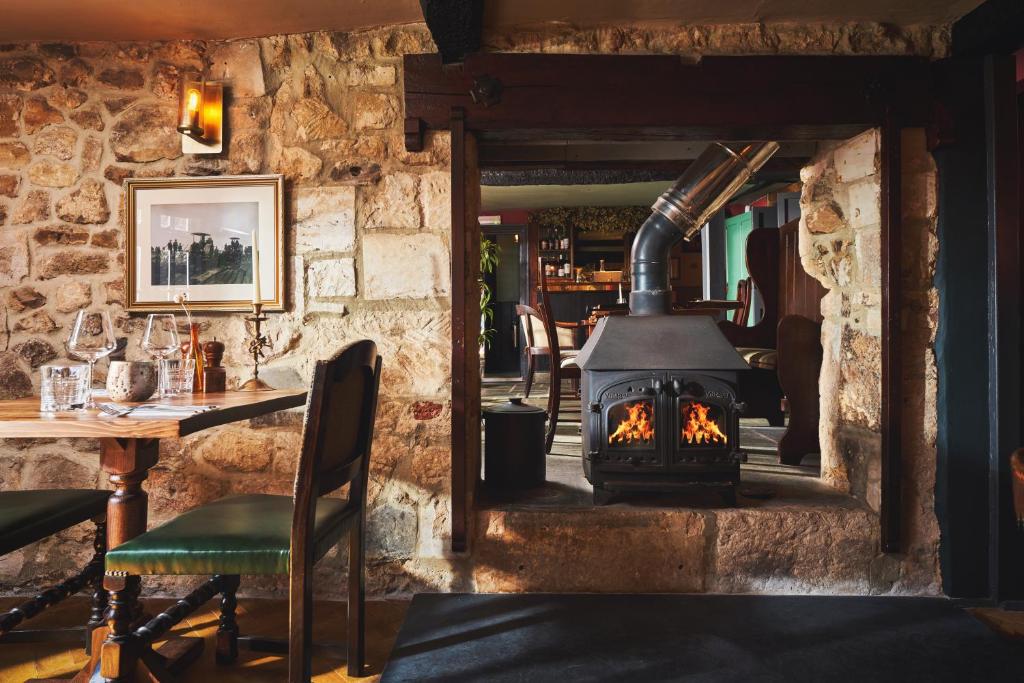 The Masons Arms is an award winning 14th century, dog friendly pub nestled in the heart of Branscombe, one of England's most picturesque villages. This magical pub oozes character and their boutique style bedrooms and converted cottages all have wonderful views overlooking the surrounding countryside. Branscombe is situated on the south coast of Devon between Seaton and Sidmouth.
See inside the pub: Masons Arms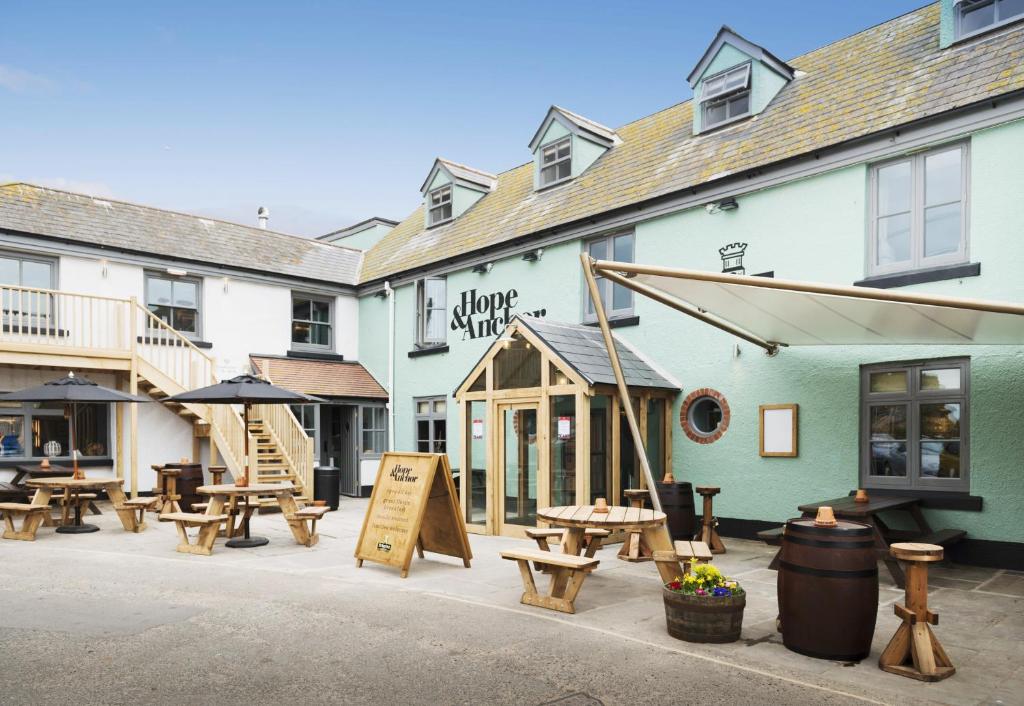 The Hope & Anchor is a dog and family friendly pub, situated in the heart of Hope Cove, an idyllic seaside village. This wonderful bolthole is a stone's throw from golden sands and outstanding scenery, and has 12 stylish and newly refurbished bedrooms. Kingsbridge is bustling market town, located in an area of South Devon known as the South Hams.
See inside the pub: Hope & Anchor
Further Afield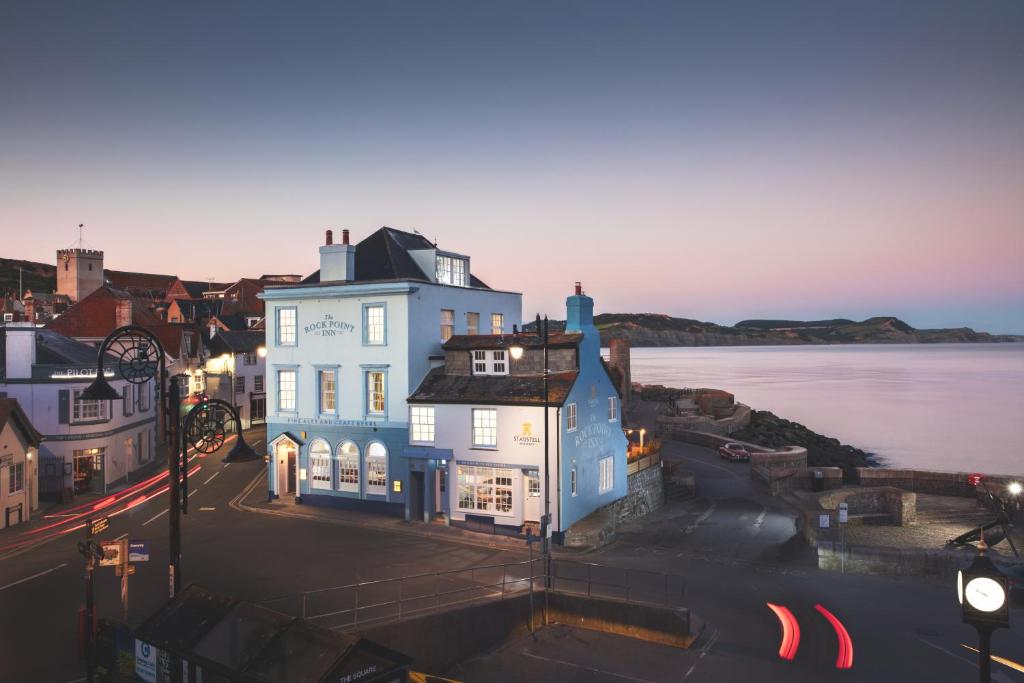 The Rock Point Inn is nestled by the harbour, in the fabulous coastal town of Lyme Regis, on the Jurassic coast of Dorset. They have nine stylish bedrooms overlooking the ocean, one of which is dog friendly. Lyme Regis boasts beautiful sandy beaches, breathtaking scenery and a fascinating history.
See inside the pub: Rock Point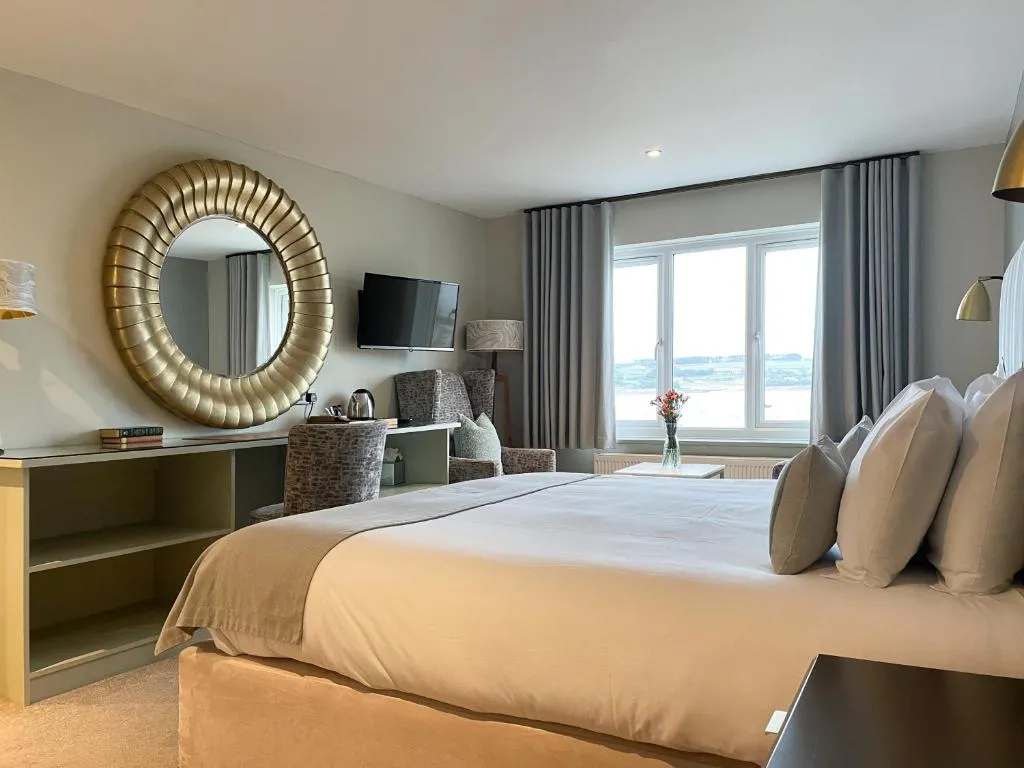 The Atlantic sits in the most stunning location with unrivalled harbour views, sandy beaches and turquoise seas on their doorstep. This dog friendly pub has 21 charming bedrooms and is situated in the heart of St Mary's, every island visitors first stop. The enchanting Isles of Scilly are located 28 miles off the coast of Cornwall.
See inside the pub: The Atlantic Hotel
We have 26 St Austell pubs in total on our site, so use our pub search here to find your next South West getaway. Whether you're searching for a coastal retreat or traditional country charm, there's a pub for you! To see the full range of St Austell pubs, head to their website to find out more.
Written by Connor Davies, Head of Content at Stay in a Pub