9 of the Best Pub Stays for under £100 This Summer
Bed And Breakfast | Dog Friendly | Featured | Pub Accommodation | Short Break | Staycation | Posted 2022.07.14
Everybody loves a getaway deal. Especially getaways which scrimp on price without skimping on quality. Check out our 9 handpicked gems, get inspired and enjoy the best UK pub stays without breaking the bank.
Our best pub stays for under £100 mean you can save on price without skimping on quality, so read on to see which fantastic pubs are ready for you to book and enjoy a superb value-for-money trip…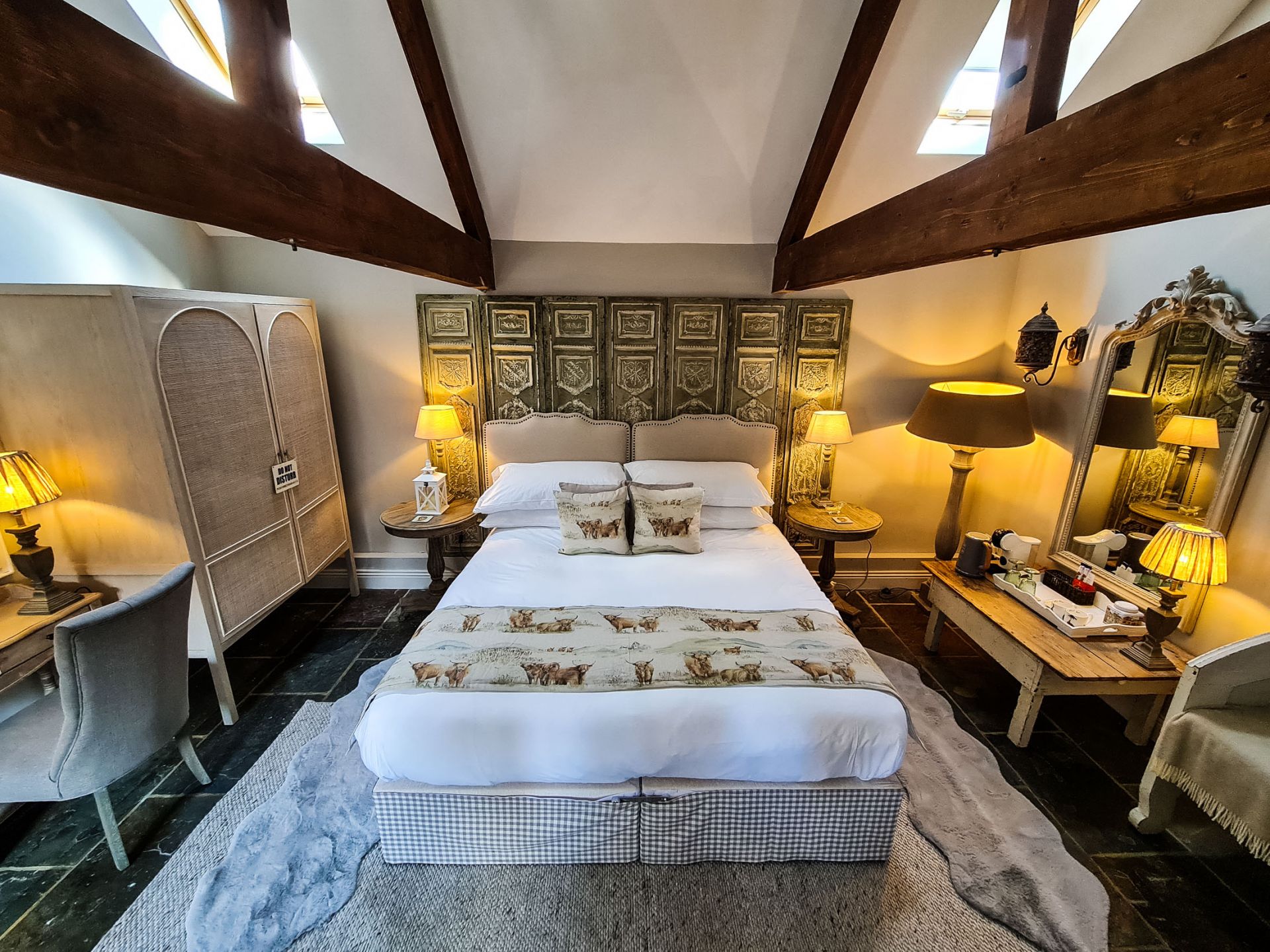 Price from: £80 a night
The Grantham Arms is a historical pub located in Boroughbridge – perfect if you're staying for leisure or business. Explore the surrounding towns of Harrogate, Tipon and York, or take a stroll down the North York Moors & Yorkshire Dales to soak up the stunning scenery. 
Features
Dog-friendly
Contemporary bar
Local real ales
Well-presented restaurants with a menu that suits all tastes
7 unique & gorgeous bedrooms bursting with charm
Perfect for racing enthusiasts
The below racecourses are all roughly 40 minutes away:
Ripon Racecourse
Thirsk Racecourse
Wetherby Racecourse
York Racecourse
Book The Grantham Arms today
There are a plethora of rooms available in August mid-week. Enjoy their small double bedrooms from £80 a night, or their standard double rooms for just £89.
For a touch of luxury, choose their gorgeous deluxe double bedroom (pictured above) for £98 a night! 
With such a great location and so much to do, The Grantham Arms offers one of the best pub stays available currently in the UK.
See inside and book: The Grantham Arms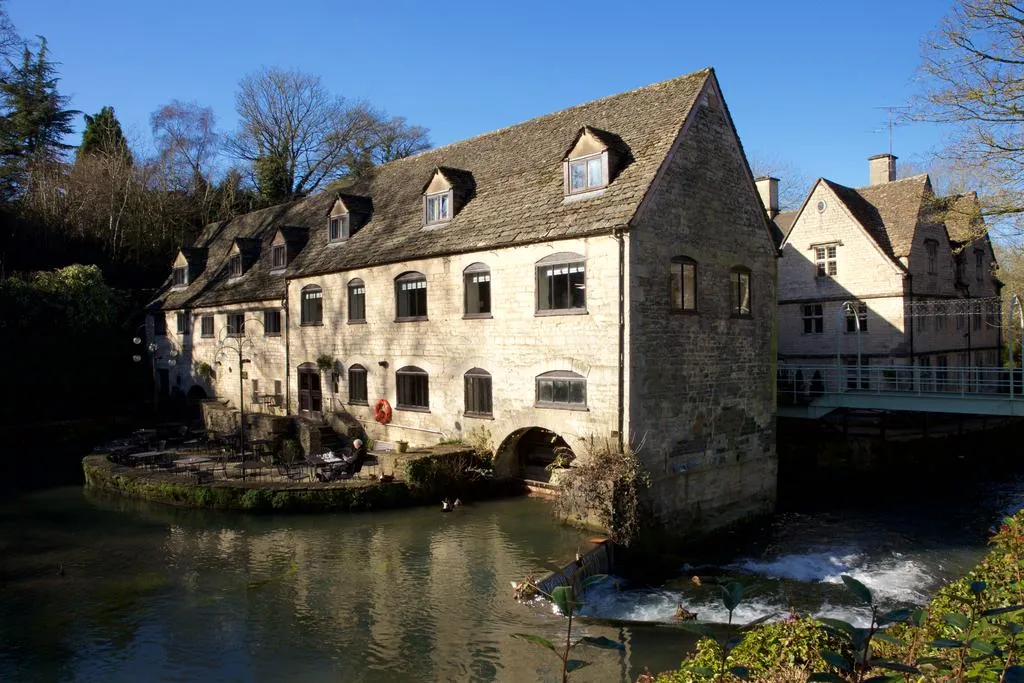 Price from: £90 a night
Nestled in the bustling market town of Nailsworth, the Egypt Mill is a classic country retreat. Brimming with charm and architectural features, the pub boasts gorgeous exposed beams with contemporary touches.
Features
28 cosy double bedrooms (some dog-friendly!)
Fluffy white towels
Luxurious toiletries
Refreshments
Complimentary wifi 
Stylish restaurant
Fantastic waterside terrace
Perfect for exploring
This beautiful unique pub stay is close to Bristol, Bath and Gloucester – a brilliant base for you to explore the timeless magic of the Cotswolds.
Book the Egypt Mill today
With gorgeous double bedrooms for mid-August starting from £90, a Cotswold summer getaway may be more affordable than you think!
See inside and book: Egypt Mill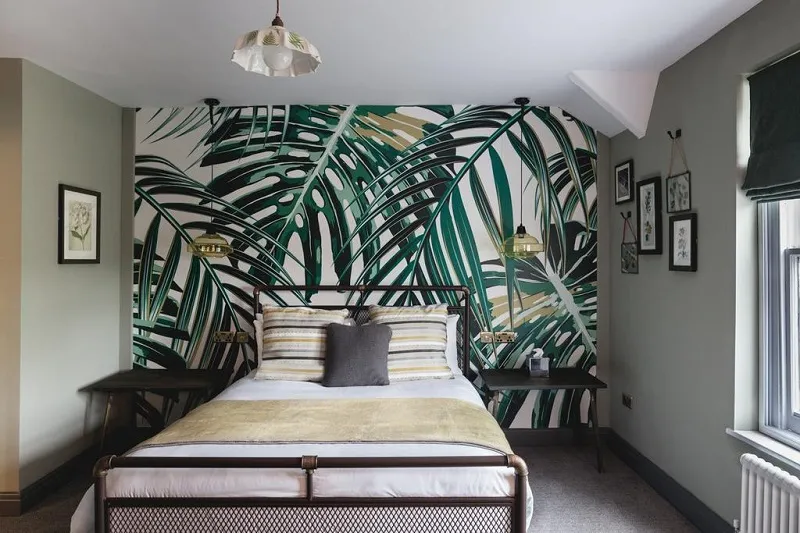 Price from £88 a night (during mid-week August stays)
A true hidden gem
If you're looking for a well-priced city break, then the Pontcanna Inn is the perfect choice for you. The pub has ten boutique en-suite bedrooms and sits in a prime location in Cardiff's city centre – close to Sophia Gardens. It's just a short walk away from the University, Cardiff Castle and the Principality and Cardiff City Stadiums. 
Features
Boutique en-suite double bedrooms
Prime city centre location
Welcoming bar and lounge area
Book The Pontcanna Inn today
The cosy double bedrooms are comfortably under £100 during mid-week stays throughout the year, with November dates as low as £74 a night.
When you factor in the boutique quality of the rooms and enviable location, this is a deal you can't miss! Cardiff itself is an underrated city, so we'd recommend booking a pub stay if you're in the market for a true value-for-money city break.
See inside and book: The Pontcanna Inn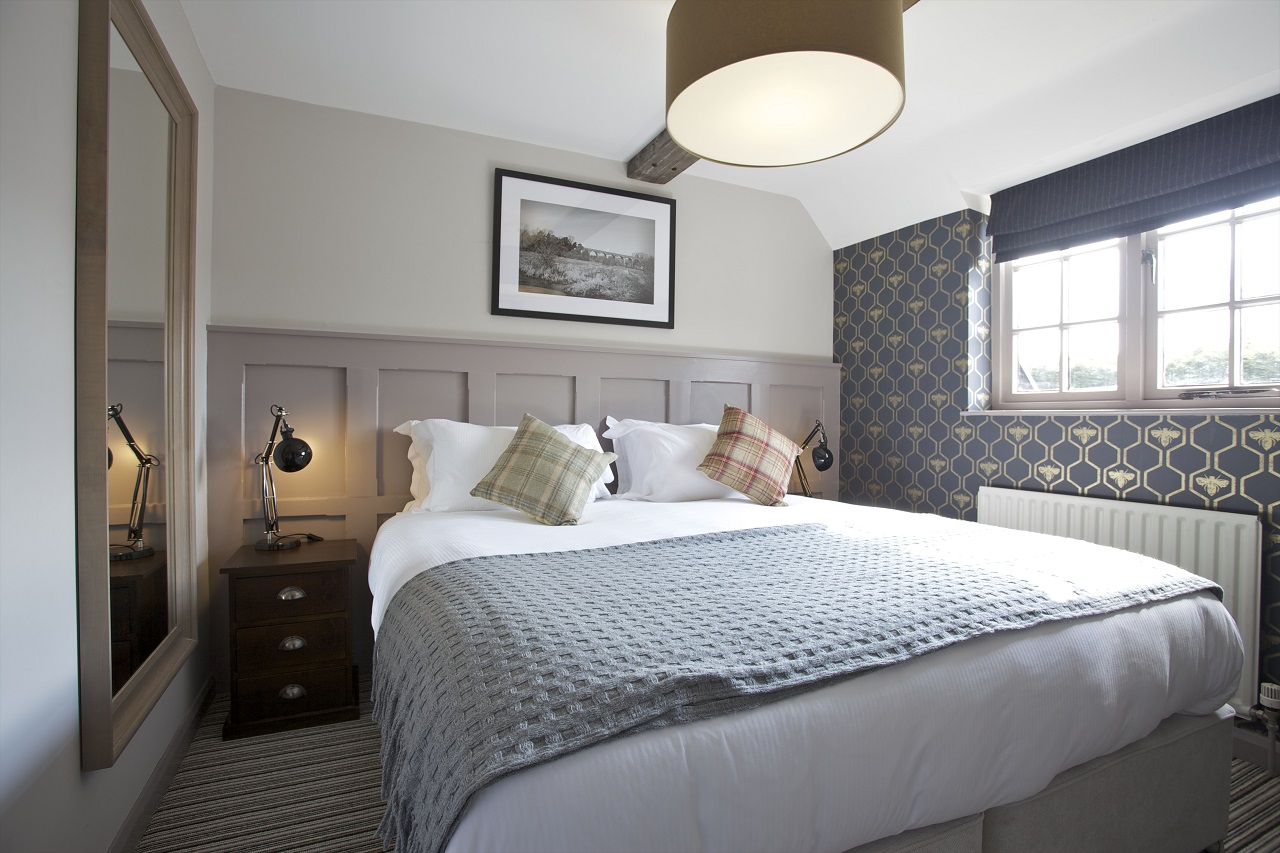 Price from: £89 a night
The Bourne Valley Inn is a charming country inn, offering award-winning British cuisine and 9 elegant bedrooms. Located near Andover in rural Hampshire, it makes a brilliant base for you to embark on a countryside pursuit. 
Features
Dog-friendly
Countryside style interiors – green panelled walls and plush opulent touches
9 comfortable bedrooms with sumptuous feather and black bedding
Treat tray
Luxury vegan toiletries
Bar
Things to do
You can enjoy the stunning scenic countryside and an abundance of outdoor activities:
Fishing on the River Test
Discover the birthplace of flyfishing 
Take a short trip to the many golf courses nearby – Hampshire Golf Club is only a 15 minute drive
Visit the Bombay Sapphire Distillery (7 miles away)
Explore Stonehenge (27 miles away)
Book Bourne Valley Inn today
Mid-week stays throughout the year clock in at £89 a night, but even weekends are a superb price at £114. 
With plenty to do and fantastic cuisine, this historic pub is well worth a visit!
See inside and book: Bourne Valley Inn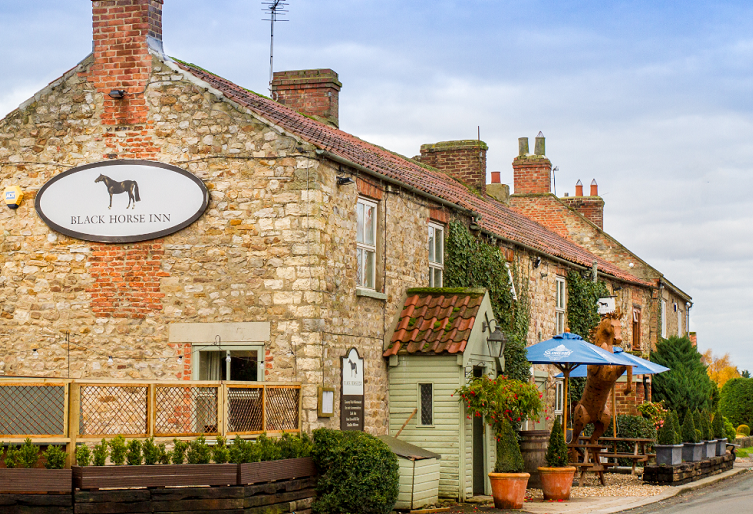 Price from: £89 a night
The Black Horse Inn is a traditional Northern pub for those who want to explore "God's Own Country". The Inn features 14 en-suite bedrooms, an elegant restaurant and a bar which serves regional real ales. Situated in Kirkby Fleetham (a Yorkshire hamlet) the pub boasts an interesting history, dating back to the time of King William the Conqueror. 
Features
Dog-friendly
AA-rated 5 star en-suite rooms with a TV
Regional real ales available
Rustic setting – quaint rooms, wooden & natural stone floors
Restaurant serving modern & traditional AA Rosette food
Complimentary H2K toiletries
Mini fridges
An interesting history to learn
Book the Black Horse Inn today
There are 9 double rooms, 2 twin rooms, 1 family room and 2 four-poster rooms to choose from. Your dogs are most welcome in all rooms!
The double rooms start from £89, whilst the family rooms start from £98.
See inside and book: Black Horse Inn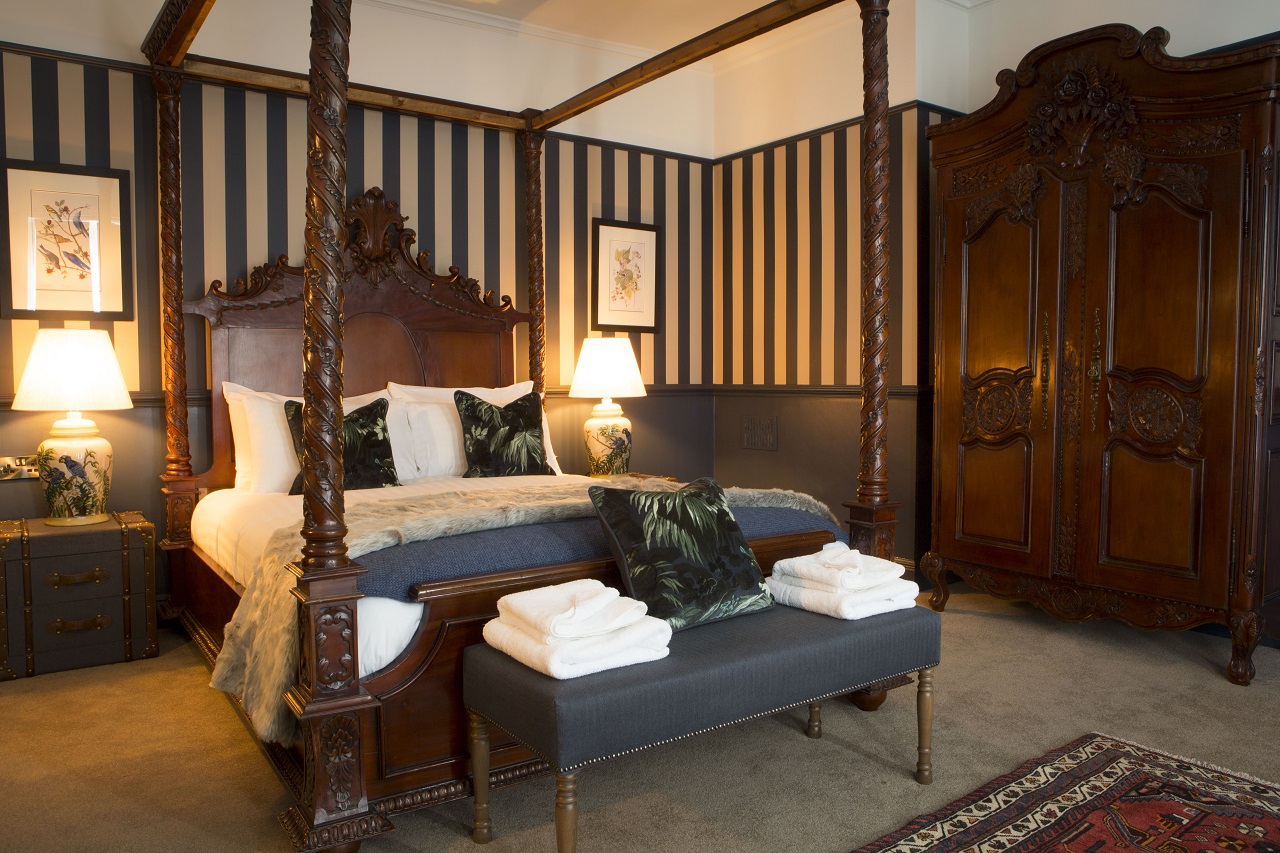 Price from: £85 a night
Nestled away in the sleepy Welsh town of Ruabon is The Wynnstay Arms. Just south of Wrexham, it's within easy reach of Chester. This North Wales jewel features 12 recently refurbished bedrooms and a cracking pub menu. 
Their spacious classic decorated bedrooms offer a comfortable night's sleep in beautiful surroundings.
Features
Beautiful surroundings
Luxurious family double bedrooms
Delicious Welsh breakfast – start your day the right way!
Book the Wynnstay Arms today
Double bedrooms this summer start from £85. But why not indulge yourself (whilst staying under the £100 limit) with their luxurious four-poster bedroom? Starting from £95 a night!
See inside and book: Wynnstay Arms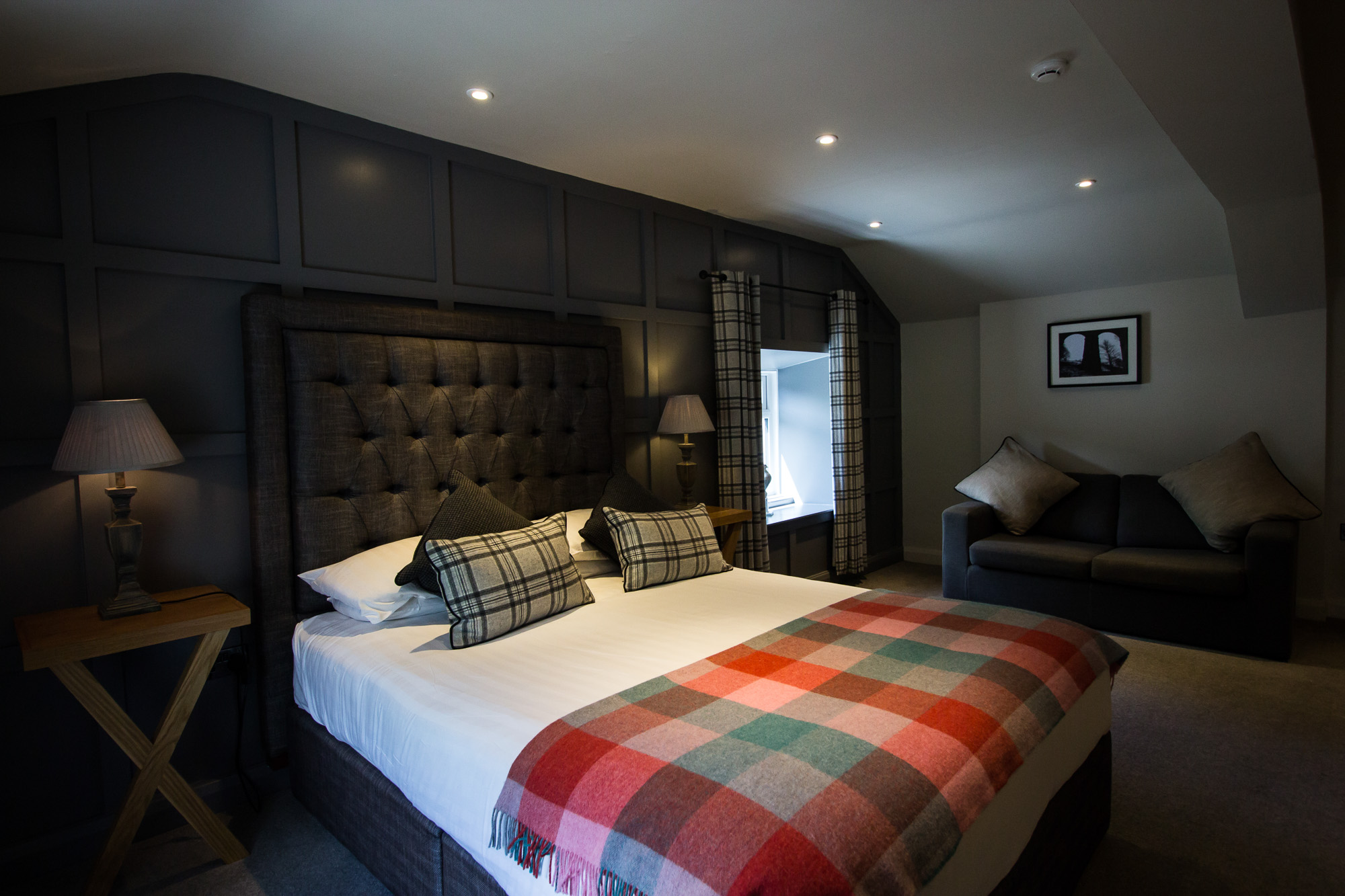 Price from: £92 a night
The Fenwick Arms has a history dating back over 250 years. It's one of the finest pubs with bedrooms in Lancashire. This gastro pub has 9 en-suite bedrooms, each blending traditional and contemporary furnishings. The Fenwick sits at the gateway to the Lake District – with Claughton Moor and the fells of the Forest of Bowland nearby.  Located to the south of the pretty village of Claughton, you can enjoy stunning surroundings in a great location.
Features
Super comfortable en-suite bedrooms with a TV
Complimentary toiletries
Tea & coffee making facilities
WiFi access
Picturesque views
Ideal for a romantic pub retreat
Book The Fenwick Arms today
Whether you're looking to relax after a busy day or embark on a romantic pub retreat, The Fenwick Arms is perfect. All rooms are £92 a night.
See inside and book: The Fenwick Arms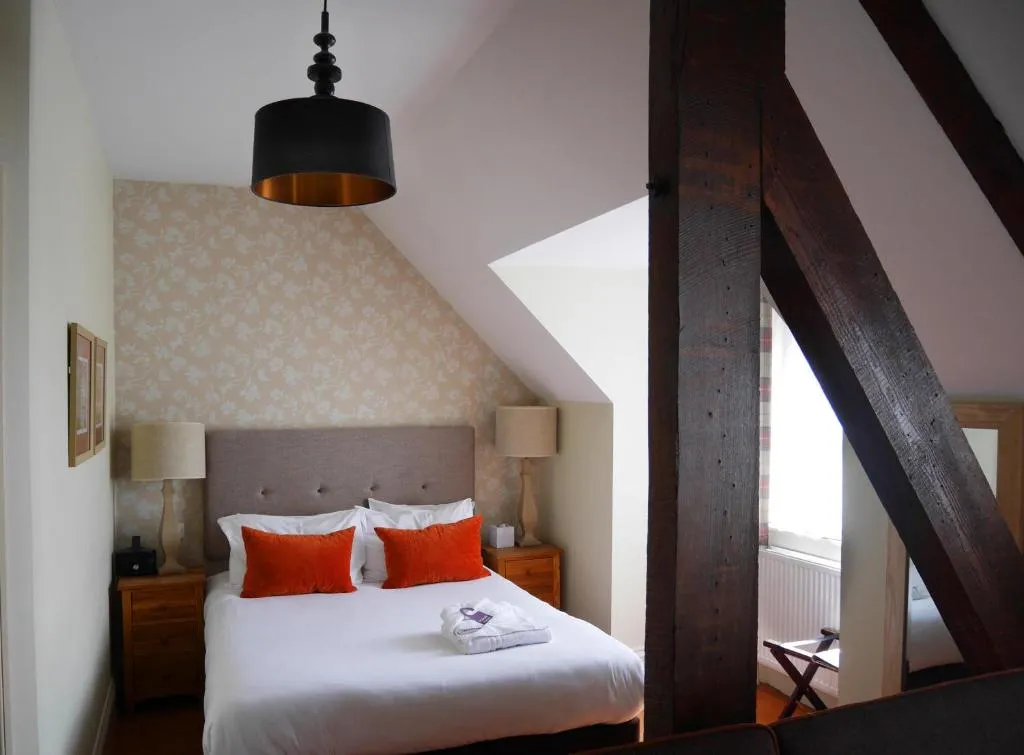 Price from: £90 a night
The Richard Onslow is a charming country inn, taking pride of place in the centre of the pretty village of Cranleigh. Full of character and ten cosy bedrooms, you'll be welcomed warmly at this traditional Surrey gastropub!
Features
Dog-friendly – fully accessible double room on the ground floor
Stylish decor, featuring original fireplaces & ancient beams
Views of the high street & sunny patio
Book The Richard Onslow today
You, your family and your four-legged friends are more than welcome to stay. The family room comes in at £90 a night, perfect for a Surrey getaway!
See inside and book: The Richard Onslow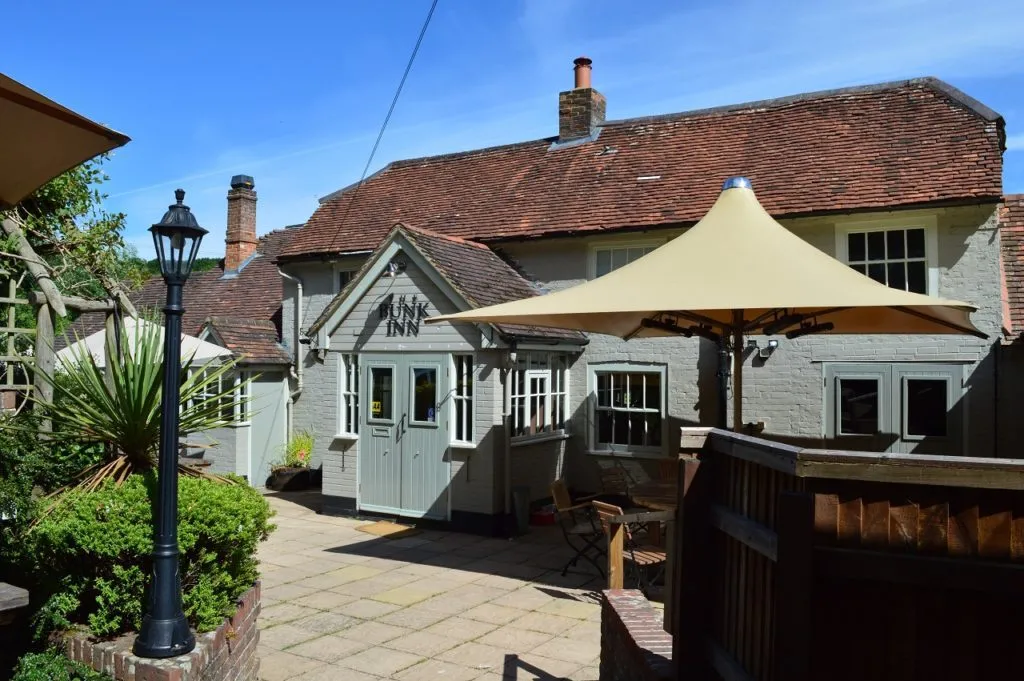 Price from: £89 a night
Enjoy the calm & beauty of the countryside
Nestled in the village of Curridge, The Bunk Inn is a charming country pub with oodles of character. It is located just a few miles away from Newbury racecourse. It features 9 comfortable double bedrooms which are 2 miles away from the M4 and A34, and is conveniently located close to the rolling chalk hills (near Wessex Downs). The Bunk Inn is one of the UK's finest pubs to stay in.
Features
Dog-friendly
Countryside views
Convenient location & easy access
9 stylish double bedrooms
Fantastic menus
Book The Bunk Inn today
Prices throughout August start from £89 a night. With the serenity of the Berkshire countryside or the hustle and bustle of Newbury in easy reach, the Bunk Inn makes for your perfect summer getaway.
See inside and book: The Bunk Inn
Book your next British getaway
Now you've had a taste of what's on offer, it's time to book your getaway. If you're after some fantastic dog walks, learn about 6 of the best dog walks in England and the nearest pubs to stay in. For more destination ideas under £100, take a look at our pub accommodation. You can use our budget slider feature to find the price that's right for you. 
Get started today with our hassle-free pub accommodation booking platform. Enjoy the best pub stays in the UK today.
All prices featured in this article were correct at the time of writing (14th July 2022). Written by Connor Davies, Head of Content at Stay in a Pub.