Sustainable Stays – Green Pub Hotel Breaks to Book Now
Short Break | Sustainable Stays | Posted 2021.04.15
Green summer staycations in English Pub Hotels that care about the environment just as much as their heavenly hospitality…
2020 & 2021 were years like no other. Yet one positive takeaway from this tumultuous time is how this unprecedented uncertainty further highlighted the fragility of our planet for many.
In showing us as a society, how quickly all we hold dear can change in a heart beat, this new focus reflecting out of the prism is shining a light on green causes and peoples desires to make changes in their everyday lives.
If environmental considerations are now higher on your agenda, we want to help when it comes to booking pub breaks.
There's now lots more to think about – questions around electric charging points, the availability of vegan food or even a pub's sustainability ethos. So let us share with you our favourite UK pub hotels to stay at for those that take their environmental impact seriously.
Here are our top seven, all ready to book now for summer 2021…
UK Pub Hotels with a Sustainable Focus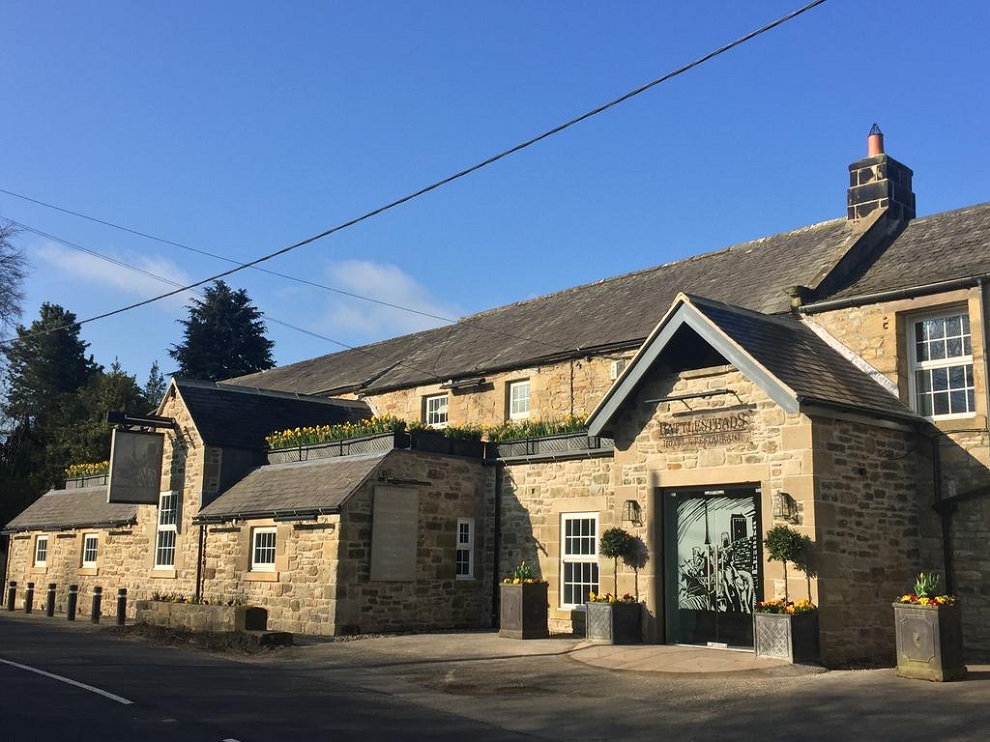 A hidden country gem in stunning Northumberland, The Battlesteads have been recognised for their commitment to the environment with sustainability intrinsically woven into every aspect of what they do. From the big stuff such as the carbon neutral heating, to their locally sourced organic toiletries in the bedrooms, all contributing to their Gold Award from the Green Tourism Business Scheme.
Nestled in the picturesque village of Wark, This charming pub hotel offers 22 beautiful bedrooms in luxurious surroundings.  Alongside the exemplary service, The Battlesteads also has the unique offering of their own Dark Sky Observatory. Find out more and book  – The Battlesteads, Hexham
Nestled in the picturesque Hampshire village of West Meon, The Thomas Lord offers modern accommodation while maintaining the delights of a traditional country escape. This charming rural pub features accommodation in stunning wood cabins located in their picturesque gardens. There is a focus on keeping their supply chain local where they can, with expert chefs using as much local produce as possible to aid their award-winning menus. The pub also features its own kitchen garden and free-range chicken run. Find out more and book – The Thomas Lord, Hampshire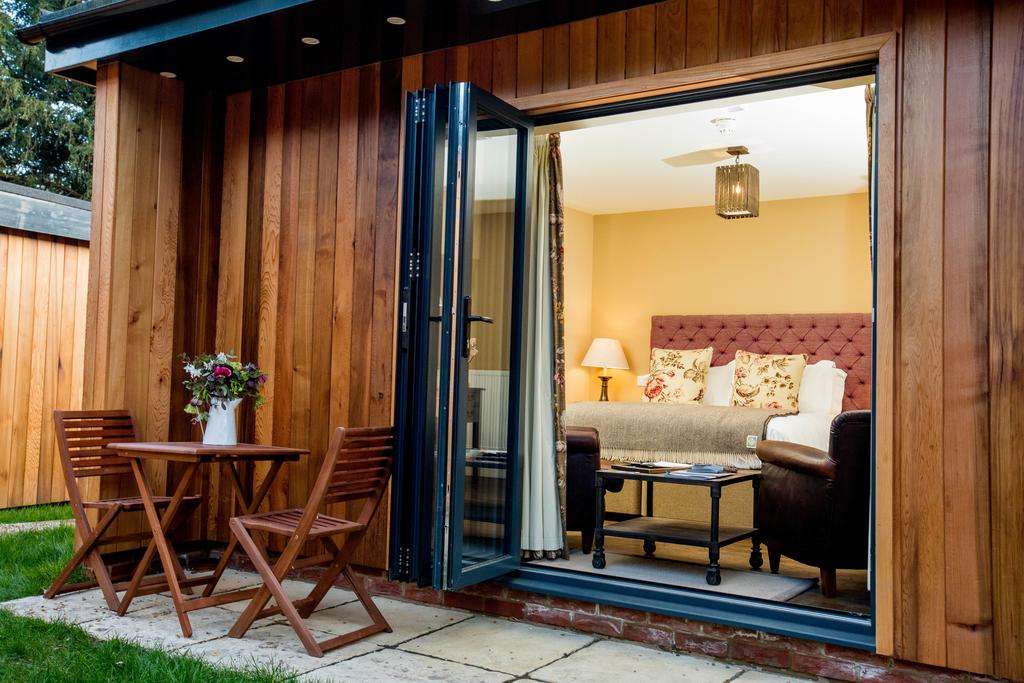 UK Pub Hotels with Electric Car Charging Points
The Devonshire Arms at Pilsley is a glorious country retreat tucked away on the beautiful Chatsworth Estate. Known for their fine food, brewed ales and beautifully decorated bedrooms they offer first class pub accommodation in Derbyshire.
They have thirteen supremely comfortable bedrooms, each furnished in their own style and equipped with lots of little extras to make your stay a truly memorable one. From petite rooms with period features to spectacular four poster farmhouse rooms, there are lots of options to choose from.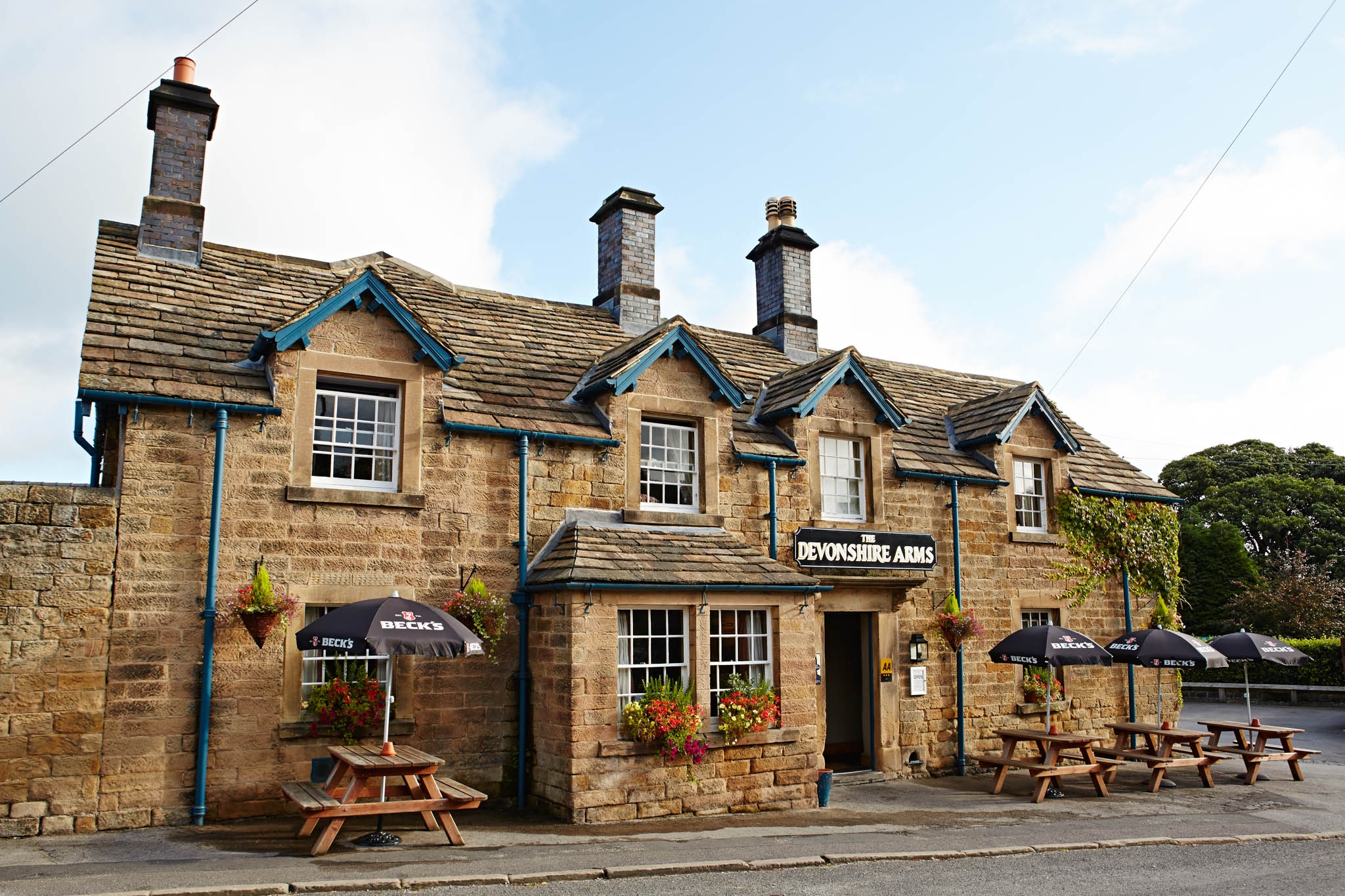 As well as complimentary TESLA and universal electric car charging points on site for guests to use, sustainability is paramount at the Chatsworth estate. Pledging their commitment to the environment in their Triple Bottom Line Steering Committee, the owners share their vision "Owned by the Duke and Duchess of Devonshire, the Devonshire Hotels and Restaurants Group embodies the Cavendish family's core values. As landowners and custodians of national heritage, sustainability is at the heart of these values, the vision for the business is – to benefit our heritage, our people and our shared future" 
You can see this focus throughout the hotel: Such as toiletries from environmentally friendly brand Noble Isle in refillable containers, kitchen food waste sent to anaerobic digestion to create power, on site fruit and vegetable gardens, minimised use of printed materials, electric maintenance vehicles and so many more. Find out more and book  – The Devonshire Arms, Pilsley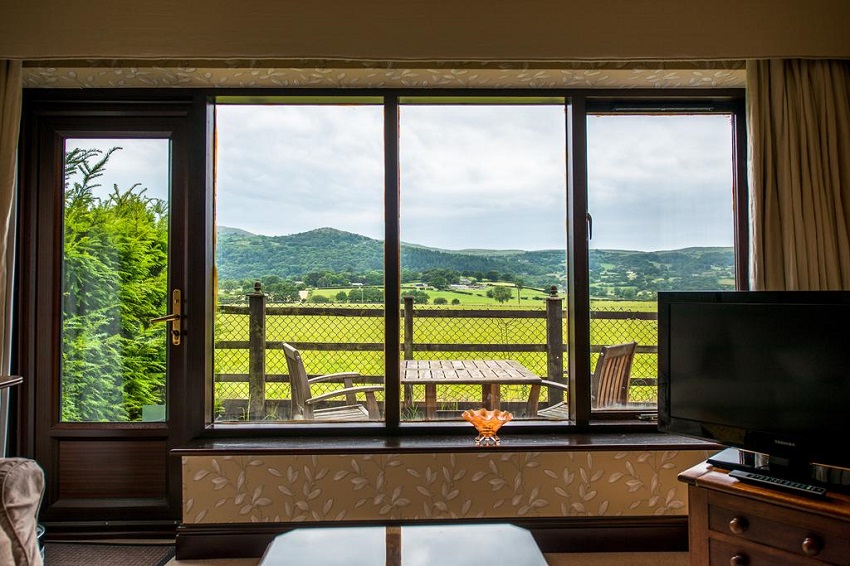 With panoramic views matched by their excellent food, The Groes Inn is a picturesque Welsh pub nestled between the beautiful Conwy estuary and the stunning Tal Y Fan mountain. They have 14 classically decorated bedrooms with the option of palatial suites boasting mountain views. Despite being tucked away in the Welsh countryside, they are equipped with modern amenities to keep you connected, such as WiFi, smart TVs and Tesla charging points. Find out more and book  – The Groes Inn, Clwyd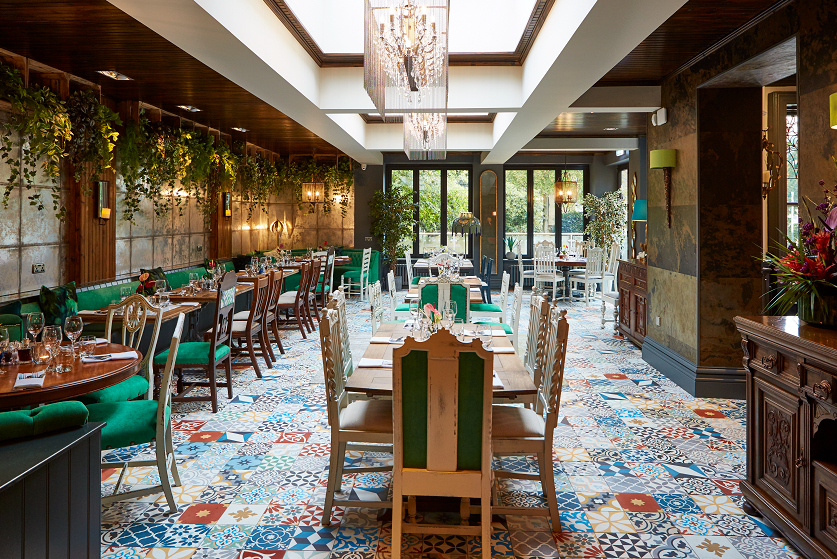 Located close to Manchester, Old Trafford and Altrincham, The Belmore is perfectly positioned for a stay away in the North, offering quality dining and palatial accommodation.
Each of their individually designed bedrooms are thoughtfully furnished with a mixture of doubles, family rooms and twins. All bedrooms come with WiFi, Freeview TV and luxury toiletries, and conveniently for electric car users, they have Tesla charging points on site. Find out more and book – The Belmore, Cheshire
Pub Hotels That Cater for Vegans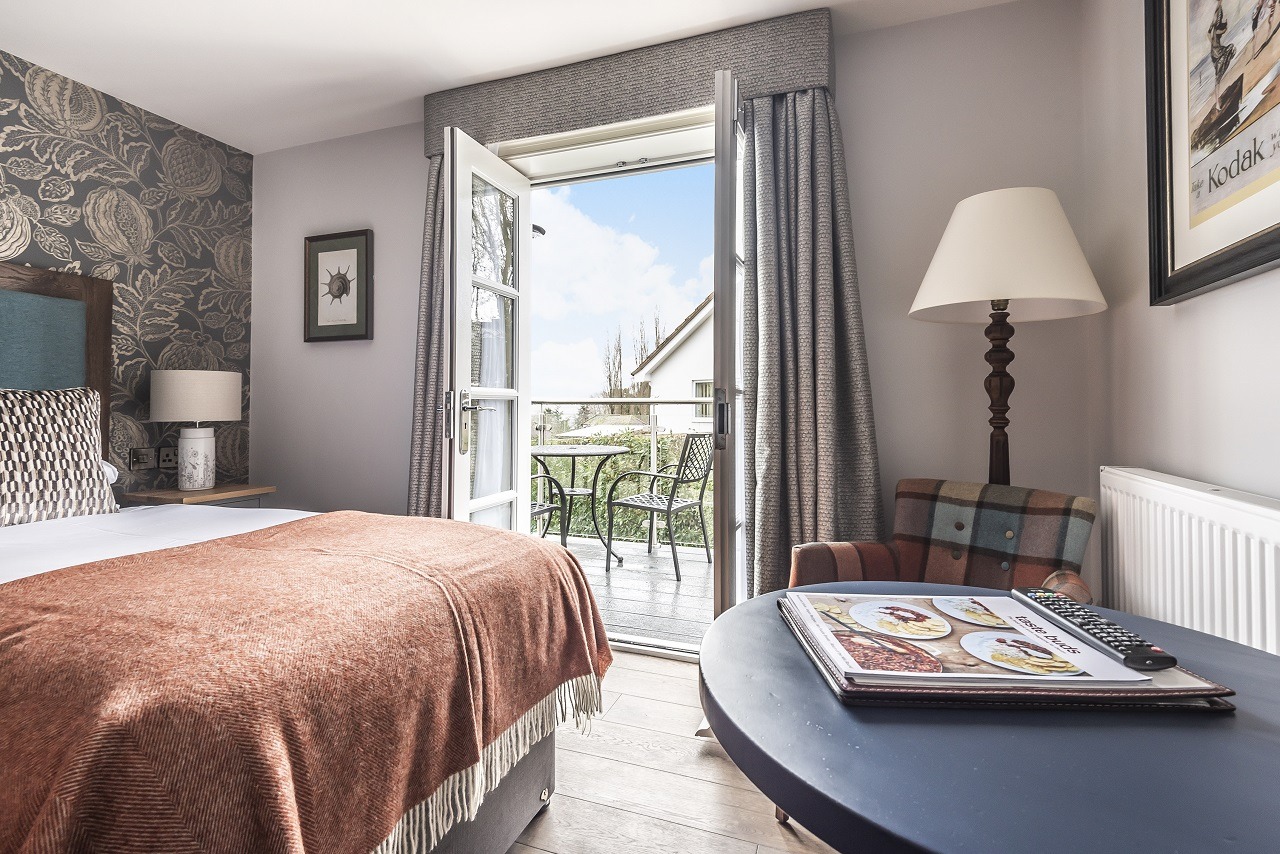 With spectacular views overlooking the gorgeous Teign Estuary, The Cockhaven Arms is situated in the quaint village of Bishopsteignton. Offering 14 stylish bedrooms, some with balconies, the pub is a perfect base to explore the nearby Teignmouth and Dawlish beaches, as well as Dartmoor National Park.
The accomplished kitchen team at The Cockhaven Arms are passionate about using fresh, local ingredients to create a brilliant menu full of options to suit every taste. The pub also offers a wide range of vegetarian dishes and a growing number of vegan options for you to choose from.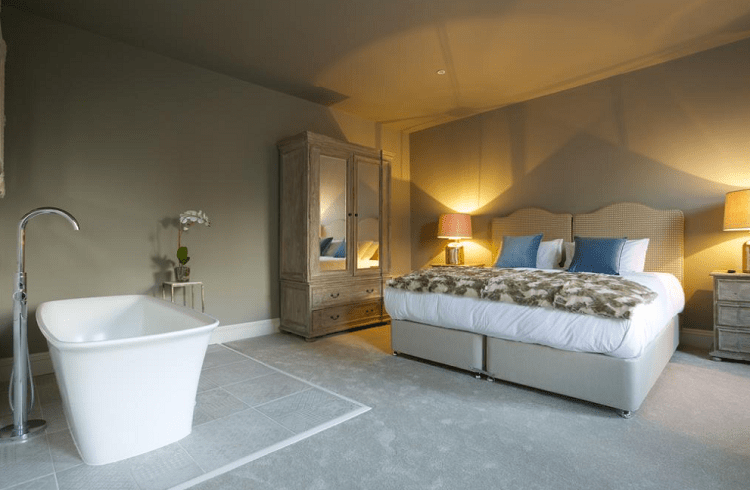 The Northgate is a historic Victorian townhouse situated in the heart of Bury St Edmunds that has been transformed into a vibrant restaurant and cocktail bar with luxurious bedrooms. They are situated just a short walk from the iconic Abbey Gardens and serve delicious food, locally sourced and seasonally inspired. The Northgate craft menus that reflect their guests tastes, but also have a nod to the environment. From vegan to heritage dishes they try to minimise their food waste at all times. Choose from small plates, with each dish inspired by locally sourced produce or graze from their delicious bar snack menu. Find out more and book – The Northgate, Suffolk
Written by Issy Joslin
Digital Content Editor at Stay in a Pub
Some more articles you might like…
If 2020 was the year to escape into an alternative Netflix reality, how about using your box set favourites to inspire some real life adventures in 2021? Check out our top picks for luxurious English staycation accommodation inspired by the fabulous décor and fantasy bedrooms in the Netflix hit Bridgerton.
Stay in a Pub is full of luxurious dog friendly pubs with rooms, which is why we wanted to share with you our best dog friendly holidays for 2021 all ready to book now.